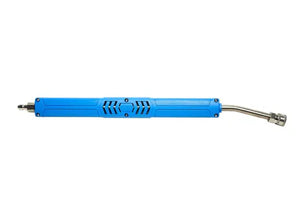 Aqualine 316 Stainless 20" Bent Lance w/SS QC's (VP-12.5022) **COMING SOON**
The Acqualine series by MTM offers industrial cleaning applications a new option for material specific jobs. This series of product is manufactured with high grade AISI 316 Stainless for added corrosion resistance and zero leeching of hard metals into potable water. The vented blue lance is BPA free and allows you to use either Hot or Cold water. Vented lances are also a fraction of the weight when compared to a traditional molded grip lance leading to longer cleaning times less fatigue.
When considering bent or straight lances, it is widely known that a bent lance allows a more perpendicular approach for your spray pattern to clean valleys on hard surfaces. This bend allows for the pressurized stream to enter the entire cleaning surface as opposed to one side, especially with porous materials such as concrete. For vehicle cleaning, the bend creates a water blade that pushes debris away from the cleaning surface.