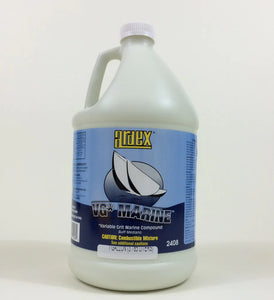 Ardex 2408 VG Marine
VG Marine is a Water-Based, "Silica Free", eco-friendly formulation, "Silica Free" vs hazardous "Crystalline Silica" found in most popular brands. The product stays wetter longer even in direct summer sun, cleans deeper and spurred on occasion won't gum up your pads. It starts out at an 800 grit mix and vanishes into a swirl-free showroom finish with little dust to clean up. 
Best applied with a variable speed buffer with a white fast cut wool pad for gel-coat, yellow light cut wool or foam pad for paint. Work hard to reach areas by hand to blend with the field.