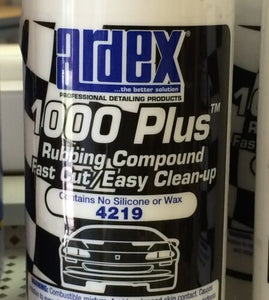 Ardex 4219 1000 Plus
Ardex 1000 Plus was developed to remove grade 1000 and finer sand scratches with a wool pad 1200 and finer sand scratches with a foam pad on both fresh and well cured paint surfaces, 1000 Plus works with all types of paint.
Shake well before use. Apply to one section at a time. Use a 100% twisted wool or a foam pad (ARDEX #AP 1000). Spread the 1000 Plus with the pad before starting machine to minimize spatter. Work in 1000 Plus using an even pressure at a buffer speed of 1500 to 2500 rpm (1850 rpm is optimum). Keep the pad flat on the surface and start with a light to medium pressure. Continue to buff lightly as the finish brightens and begins to dry. Do not use the same pad for follow-up polishing. Clean splatter promptly with a damp towel.