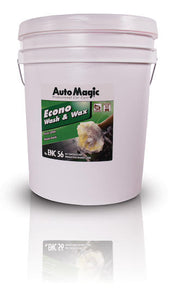 Auto Magic No.ENC-56 Econo Wash & Wax
Econo Wash & Wax is an economical shampoo for cleaning exterior vehicle surfaces. Also cleans glass, chrome, plastic, vinyl, rubber, wheels, and tires.
Rinses easily

Dilution Ratio 1:32

Leaves shine
TIPS: Use on cool surfaces. To quickly cool the surfaces, rinse entire vehicle with pressurized water before use. This will also help to loosen and remove dirt. It is best to use a separate wash mitt or sponge on the lower body areas, fender wells, wheels, and tires. This way, if you pick up any small rocks and dirt, it won't scratch the painted areas.