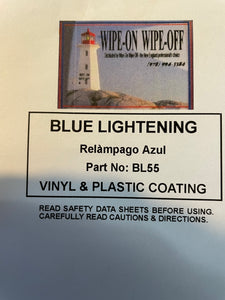 Blue Lightening - Relàmpago Azul Vinyl & Plastic Coating
Blue Lightening is a professional vinyl and plastic coating that is great for use on automotive trim. Simply spray on and walk away to apply a long-lasting mirror-like coating that needs no wiping. Remove any BLUE LIGHTENING overspray from glass and painted surfaces. Overspray on floor may cause a slip and fall hazard. Wash floors regularly to prevent slippery coating buildup.
Remove from glass to avoid smearing and impaired vision. Rinse floor surfaces with soapy water to remove buildup, which can be slippery.
CONTAINS SILICONE. DO NOT USE IN BODY SHOPS!
Do not apply on newly painted surface until solvent has dried. Never apply on a hot motor. Do not apply to accelerator, brake, clutch pedals or steering wheel.
Warning
May cause drowsiness and dizziness
Prevention
Avoid breathing dust/ fume/ gas/ mist/ vapors/ spray. Use only outdoors or in a well-ventilated area.