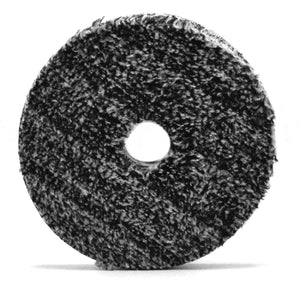 Buff & Shine Uro-Fiber 5" Microfiber Cut, Polish & Finish Pad
The Buff and Shine® 592MFP Uro-Fiber™ 5" Pad holds two types of microfiber -black and white- with a low pile. Can be used to cut, polish, and finish when detailing a vehicle surface. This American-made pad is designed to be usable with almost any Gear-Driven, Long Throw DA, or Standard DA detailing polisher.
Diameter: 5"
Loop Diameter: 5"
Foam Thickness: .375"
Weight: .16 lbs.
Able to cut, polish, and finish on soft or hard paints
Use with Gear-Driven, Long Throw DA, and Standard DA polishers - Not recommended for High-Speed/Rotary Polishers
Built to be compatible with virtually any polishers on the market today
25% shorter microfiber pile for more cut
Washable - Clean with soft nylon brush or compressed air per buffing cycle
Patent pending dual fiber stitch
Strongest interface foam on the market
Made in the U.S.A.