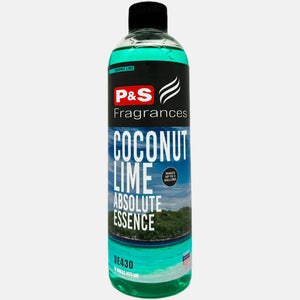 Coconut Lime Fragrance (Absolute Essence) **COMING SOON**
Get the power and smell the difference with the high powered super concentrate P&S Fragrances.  This unique selection of fragrances have been hand selected by team P&S are utilized in many of the popular P&S products by both enthusiasts and professional detailers.  These super concentrates have been formulated for optimum performance.  One pint of P&S Fragrance Concentrate makes up to two gallons of power packed scent.
Depending upon strength required dilute as preferred or up to a maximum of to 15 to 1.  One pint will make up to 2 gallons of ready to use fragrance.  Once detail is complete spray apply a light misting of diluted fragrance on to carpet or under seat.  Close doors and allow to sit for 20 minutes prior to vehicle delivery.