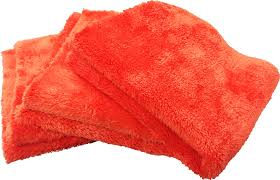 P&S Bead Maker ULTIMATE TOWEL
P&S BEAD MAKER is taking over our industry as a better faster way to enhance and protect paint finishes. The nick name for BEAD MAKER is "Money Maker" because it increases productivity for professional Detailers.
To enhance the performance and experience we are thrilled to introduce the BEAD MAKER 16"x16" Ultimate Edgeless Polishing Towel. This custom edgeless towel is absolutely The Best Microfiber Detailing Towel. The BEAD MAKER Ultimate Edgeless Polishing Towel features extreme plushness, softness and performance. Detailers will appreciate the outstanding performance of this towel when the pressure is on to obtain the ultimate finish. This towel is perfect for the Pro Detailer and Extreme Enthusiast. The soft nature of this towel creates a memorable wipe down experience when paired with BEAD MAKER.