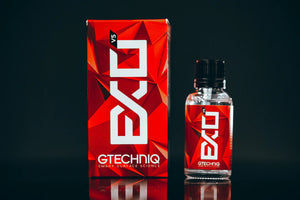 Gtechniq EXOv5 Ultra Durable Hydrophobic Coating
With EXOv5, Gtechniq broke the mould of durable coatings. For the first time, this category of coating offered a warm gloss look, slick finish, and unsurpassed water repellency, which when combined with easy application made it our best selling product. 
Gtechniq is always pushing the limits of performance coatings. Intense experiments and real world tests with a new ground-breaking, hard, organic material revealed we could offer a leap forward in the performance of EXO. Tests have proved conclusively that the harder material offered major improvements in durability, chemical resistance and resistance to surface staining (particularly from water spots), as well as retaining the warm gloss finish and superb hydrophobic function that made the previous formula a smash hit.
Further research into new additives has helped to fix other consumer push backs such as smeariness when applied over C1 Crystal Lacquer, and the short shelf life of opened bottles.
All of the above combined with the introduction of a good degree of scratch resistance means EXOv5 represents a major leap forward in Last Surface Protection (LSP) technology; 2 year protection.