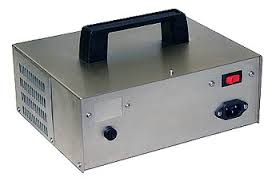 Jenesco Ozone Generator FM-14
$ 46900

$ 469.00

Save $ 130
---
---
The FM-14's high output gets the job done quickly and thoroughly. Removes odors, mold, and mildew at the source. Ozone gases are designed to remove odor by destroying the molecules, bacteria, and spores that cause that unpleasant smell by attaching itself to the molecules, chemically changing the structure and destroying odors at the source. This gas can actually go anywhere air can go, which includes in between fibers in your carpet, into cracks between plastics, through the headliner, and into the AC system. Ozone is the second most powerful sterilant in existence; it can easily destroy bacteria, viruses, mold, mildew, and odors.  
This ozone generator is the professional's choice for use in large or small areas including automobiles, limousines, buses, recreational vehicles, rental cars, vans, and boats. The FM-14 uses 4 laser cut silicone composite ozone plates with stainless steel grids, to produce the maximum ozone output using ambient air as the source gas. They can easily be removed for cleaning, merely removing a single thumb screw.
Coverage: Up to 6000 sq. ft. for odors and 1000 sq ft for mold

Ozone output: 200 to 4000 mgph

If oxygen were used as the source gas, the ozone output is up to 20,000 mgph

neutralize stubborn odors, mold, and mildew

Electrical: 120 V AC, 40 watts, 3 Amp Fused
Dimensions: 8" x 10" x 5.5" high
Weight: 9 lbs.
** 2 year warranty**
*Does not meet California air cleaner regulation requirements (AB2276): Cannot be shipped to California*