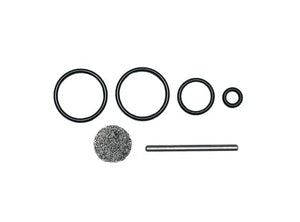 MTM Hydro PF22 Foam Cannon Repair Kit (VP-41.5001)
MTM Hydro's PF22 Foam Cannon Repair kit is a replaceable maintenance item that will only fit the PF22 Foam Cannon. This kit comes with both, O-rings, Fastener Pin, and a filter for replacement. The Filter is a woven Italian Stainless mesh that operates as an agitator when the chemical and pressurized stream hits it. To the naked eye, it looks similar to any other cannon filter, but once it is disassembled, there is a distinct woven pattern throughout the filter that was developed by our Italian engineers to ensure a thicker, clinging foam.
As an agitator, this item will get clogged over time and if you use waxes, the sticky compounds are notorious for causing a faster failure rate. If you suspect a clog, and you remove the agitator, there will be no noticeable issue as the sticky chemical compounds are driven deep into the middle which creates additional back-pressure and inhibits foam creation.