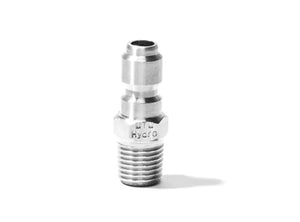 MTM Hydro Plated Steel 3/8" QC Male Plug (VP-24.0076)
MTM Hydro's Plated Steel Plugs offer a a fast and economical QC system for your high pressure joints. As a rule of thumb, MTM Hydro 3/8" fittings are normally found between the pump and the spray gun where 3/8" hose is commonly used. When purchasing Plugs and couplers the Male model has exposed threads while the Female version has threads on the interior of the fitting. See image for reference.
 All MTM Steel Plugs are National Pipe Thread (NPT) which means they have a tapered Male or Female thread (depending upon the model). NPT is mainly used in the Western Hemisphere and was developed on the concept of interference by the third thread. When installing NPT fittings to another NPT thread we recommend that you use 4-5 wraps of teflon tape wound clockwise, or 2-3 drops of Loctite thread sealant.