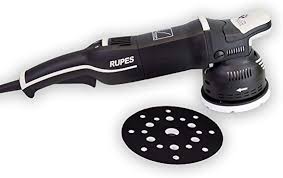 Rupes Mille Gear Driven Dual Action Polisher LK 900E
$ 47000

$ 470.00

Save $ 105
---
---
About the Rupes Bigfoot Mille LK 900E
The Rupes Mille equipped with "forced rotation". This gear driven polisher combines the cutting power of a rotary polisher with the safety of a dual action polisher. The gears force the rotation and the orbit in a more consistent pattern than a normal duel action polisher does and continues this no matter how much pressure you apply to the Mille. This results in more cutting then with free spinning duel action polisher. On the orbit / rotational pattern there is the advantage that heat build – up can be controlled more easily then with a rotary polisher.
Gear Driven Polisher
The Mille fits the gap between rotary polisher and dual action polisher. The Bigfoot Mille brings power and performance with balance and comfort. 100% correct ergonomics are essential for anyone to work this gear driven polisher. The Mille is equipped with "clockwise rotational movement" and delivers results on defect removal, versatility, comfort of use and efficiency.
Better cutting with safety.

Variable speed control with "clicks", ergonomically positioned.

A progressive accelerator (trigger) for extra control.

2 rubber support edges hold the machine stable when resting on its back.

A long 9mm power cord