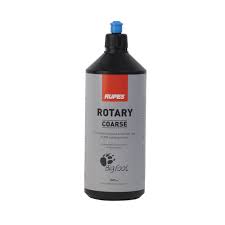 Rupes Rotary Coarse Compound 1000m
Rupes Rotary Course Compound 1000m, formulated specifically for the unique demands of a rotary polisher movement and tested to perform at its peak with the corresponding coarse blue rotary foam pads of the BigFoot Rotary System, RUPES Rotary Coarse Compound blazes new territory in the the rotary compound category.
With significant rotational forces resulting in high amounts of heat and friction at the surface rotary polishing presents some of the most challenging conditions for compound formulation, but with RUPES BigFoot Rotary Coarse Compound our team has formulated the ultimate solution for the removal of sanding marks while maintaining a smooth operator experience and providing an aggressive cutting action for the removal of sanding marks and severe surface defects without excessive dusting or pad chatter.
Matched to RUPES color-coordinated coarse blue rotary polishing foams RUPES BigFoot Rotary Coarse Compound easily cuts through P1500 sanding scratches in even the hardest of paint systems thanks to the use of premium abrasives packed densely into each drop of compound. Developed, formulated, blended, and manufactured in house completely by RUPES the Rotary Coarse Compound uses only the highest quality raw materials and stringent quality control to ensure consistently high performance.