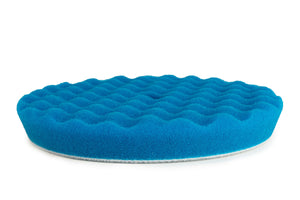 Rupes Blue Coarse Velcro Waffle Pad **Coming Soon**
The WAFFLE COARSE FOAM PAD is the coarsest of our Rotary Waffle Pad range. Made of a blue foam material, this pad provide high performance and aggressive removal of severe defects and sanding marks on painted surfaces. Thanks to the waffle pad face, the Waffle Coarse Pad provides rotational stability and reduces heat build-up caused by rotary motion. The blue Waffle foam pads for rotary are designed to work with the BigFoot LH19E and any other rotary polisher. We recommend pairing them with our Rotary Coarse Compound.
The waffle design of the pad surface generates a smooth polishing experience and increases user comfort. Since the waffle-shaped face of these pads does not totally touch the surface, they work at a cooler level, reducing the risk of overheating the paint and tending to last longer.