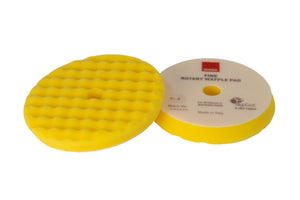 Rupes Yellow Fine Velcro Waffle Pad **Coming Soon**
The WAFFLE FINE FOAM PAD can remove moderate surface defects and imperfections while leaving an excellent finish. The new waffle pad surface provides a smooth and comfortable polishing experience. They are designed to work with the BigFoot LH19E and any other rotary polisher. We recommend pairing them with our Rotary Fine Compound.
The waffle design of the pad surface generates a smooth polishing experience and increases user comfort. Since the waffle-shaped face of these pads does not totally touch the surface, they work at a cooler level, reducing the risk of overheating the paint and tending to last longer.