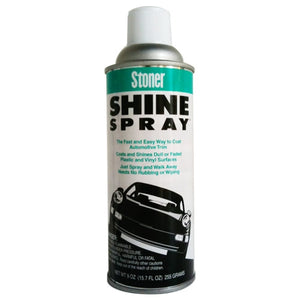 Shine Spray
Features:
19 oz Exterior Trim Spray
Works well with Bumpers, exterior trim, dashboards, gearshift boots, vents, hoses, seats, tops, vinyl, plastic, other interior & exterior surfaces.
Low lustre, showroom finish
Featured benefit Hides wax marks and white hazing on dark automotive trim
A clear, colorless, non-staining, non-corrosive, non-greasy coating
Simply spray on, no wiping or rubbing needed.
Long lasting with no streaks, drip
Great for hard to reach areas where wiping is difficult
Cuts application time in half compared to standard methods.