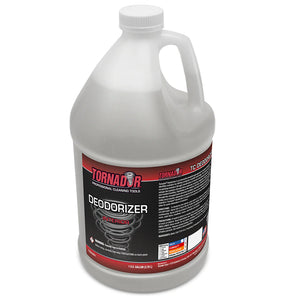 Tornador Deodorizer
Tornador® Deodorizer is an innovative breakthrough approach to malodor elimination, for use with your Tornador Cleaning Tool.
• Utilizes Molecular Scientific Technology
• Traps and Eliminates Malodors• Uses Multiple Chemical Reactions
To deodorize the interior, pour 2 oz. into TORNADOR® 32oz. jar. Do not add water. Spray Deodorizer to create a fog inside the vehicle, room, office, or area being deodorized. For maximum efficacy, spray vents, cloth fabrics, headliners, visors, seat belts, and carpets - allow fog to dwell with windows and doors closed for at least 10-15 minutes or until fog dissipates.