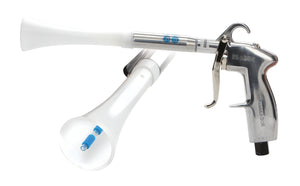 Z-014 Tornador® Air Blow Out Tool
The TORNADOR® Air Blow Out Gun works with your air compressor to blow debris and moisture out of hard-to-reach areas of a vehicle. Use the TORNADOR® Air Blow Out Gun inside or outside the vehicle. The strong, tornado-like funnel of air blasts out dirt and dust quickly and easily.

The TORNADOR® Air Blow Out Gun has the same cone shape as the TORNADOR® Car Cleaning Tool and TORNADOR® Air Foam Gun. The cone channels air into a powerful tornado-like motion that quickly lifts dirt and moisture from any surface. The cone covers a larger area than the air flow coming directly from an air compressor, yet it is still targeted enough to concentrate tremendous air power right where your vehicle needs it.